Halloween Candy – Buy, History, Ideas

You are on page 1/2.
Candy Corn, Reese's Peanut Butter Cups, Kit Kat, Hershey's Miniature Chocolates, M&M's, Skittles and gummy candies are sought after each Halloween from eager Trick-or-Treaters. People spend millions each year on Halloween candy or roughly $85 dollars per household.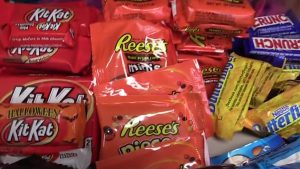 Stores stock up on bags with bite sized portions or full size portion candy bars. Many online companies offer specialty Halloween candy as well. Gummy body parts, pumpkin shaped chocolate, skeleton shaped candy and many sorts of black, red and orange-colored confections can be found in stores and online.
Popular
The most popular candy during this time of year is Candy Corn. Invented in 1898 by the Goelitz candy makers, Candy Corn was originally named Chicken Feed. In 1950 the name changed to Candy Corn. Goelitz advertised the famous candy as the "Candy of Halloween" in 1950. Millions of pounds are sold each year. Jelly Belly became Goelitz's official new name in 2001. The original candy company name is still on some of the old buildings, along with the new name. Their traditional Candy Corn is sold all year and comes in a variety of colors.
The next popular Halloween candy is M&M's from the Mars candy company and was invented in 1941 as a candy that would not melt fast in heat. The Mars company targeted selling the candy to the military after seeing many consuming homemade candy coated chocolates. These homemade candies melted fast, but not the new M&Ms Mars was selling only to the military! Towards the end of the war, Mars targeted the public and in 1950, the candy became available for sale to the public and remains at the top of the popularity chart. M&Ms are usually the first candy children are given. It is easy to hold and eat. The candy shell dissolves to expose the chocolate inside.

You are on page 1/2.