Estimated Reading Time:
3
Minutes
This post was originally published on January 15, 2019
The latest update to this post was made 5 years ago.
No Sound In Firefox Web Browser
It took a while to figure this one out.  All other Windows apps have sound…  Youtube videos play fine in Chrome, Internet Explorer and even Edge…  But Firefox is completely silent…  I went though the typical troubleshooting steps…  Cleaned cache, uninstalled/re-installed, etc…  None of this worked, but the fix turned out to be pretty simple, here are the steps:
STEP 1 – Make sure you are running a current version of Firefox.  Older versions have compatibility issues with some of the newer streaming audio and video protocols.  
Click the 3 bars in the upper right corner of Firefox, choose 'Help' -> 'About Firefox'. 
It will show the current version and if behind, it will auto download the needed update(s).
If you do have updates, let them run, restart Firefox and continue to run this process until this screen says 'Firefox it up to date'.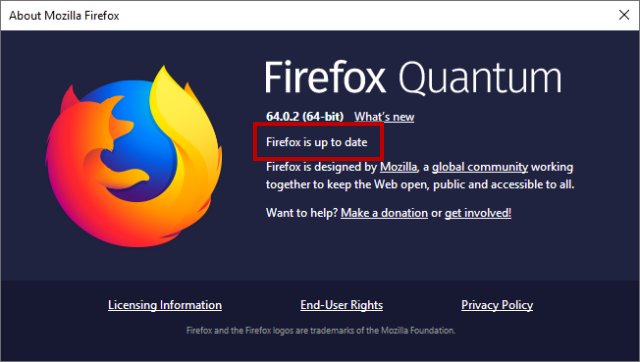 Image : Make sure Firefox is up to date
STEP 2 : Change the security sandbox settings…

FYI – The original value on our install was '5' – this was changed to '2'.  There are no 'save' buttons, the changes are saved when changed automatically.
STEP 3 – Close Firefox and re-open it.  Try your video again, there should be sound!
Tags: #techsupport #mozilla #firefox #youtube

Did you enjoy this article?