Estimated Reading Time:
4
Minutes
This post was originally published on March 2, 2019
The latest update to this post was made 5 years ago.
New Orleans Cemeteries
Avoiding the subject of death is like avoiding the subject of what to have for dinner.  Death is something we all will encounter at some point in our life; whether it is a loved one, distant relative or friend.  Funerals are costly and you may pay up to $9,000 according to consumer resources. https://www.lhlic.com/consumer-resources/average-funeral-cost
Remembering the deceased is what a headstone represents for the living and some people seek out unique cemeteries as well that fit the deceased.  Making sure the departed is comfortable and happy is the goal of the living and it is a way to remember what is not gone.  Religion and humor can be found in every cemetery all over the planet.
New Orleans has the most visited cemeteries in the world.  People from all over come to visit the variety of graves in this below sea level city.  There are four types of graves in a New Orleans Cemetery; ledger stones, coping graves, wall vaults and tombs.
TYPES
Ledger stone graves are flat rectangle stone slabs that are placed on top of the grave to keep the coffin in place. They are flush with the ground and can sometimes sink in.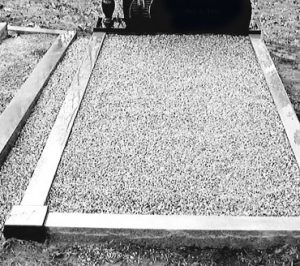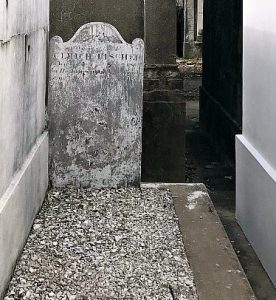 The Coping Graves seal off the coffin with square stone, marble or granite with gravel on top that help keep the coffin in place during rising water levels.  These are low graves that do not exceed 3 feet above the ground.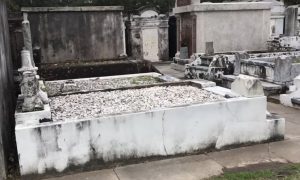 Wall vaults are around the perimeter of the cemetery and are reserved for entire family lines. When it is time for a new person to be buried, the remains inside from the previous burial would be pushed back in the tomb to make room for the newly deceased person.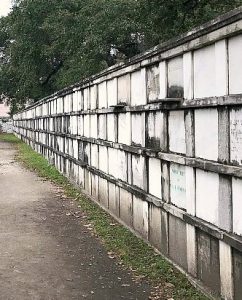 The tombs can be single or family and are treated like the wall vaults.  They are cemented, stone or marble structures that are several feet high and hold the deceased inside.  If it is a family tomb, the formerly deceased is pushed back or allowed to fall to the exposed ground inside the tomb and the newly deceased is placed inside.
Cremation has just recently gained popularity; mainly due to cost.  The ashes of the deceased cannot be spread in the cemetery, instead they must be placed in an urn inside the selected type of interment.
HURRICANE DAMAGE
Raised cemeteries can be beautiful, but New Orleans buries their loved ones in these types of graves due to the city being below sea level.  Hurricanes can play havoc on buildings and cemeteries.  During Hurricane Katrina and Rita in 2005, several cemeteries were destroyed or partially destroyed.
People found broken up caskets in their yards, on riverbanks, in swampland and in trees.  The remains of these people were treated like the newly deceased and set in an area for the coroner to identify.  Families wanted their loved ones back and placed in their interments once again; fourteen years later some cemeteries are still struggling to recover.
New Orleans is proud of their culture and cemeteries.  Some cemeteries are more than 200 years old.  The most visited cemetery in New Orleans is St. Louis Cemetery #1 where the famous Voodoo Queen, Marie Laveau, is buried.  There are two tombs for her family; one is fake and one is real.  Most visitors go to the fake tomb.  We were fortunate enough to have the caretaker show us the real tomb.
Joining a tour is required if you want to visit a New Orleans Cemetery.  Demands of visitors, vandalism and a keen sense of entrepreneur-ism took over the city and now you must be guided through the cemetery.  Planning a visit to New Orleans?  You must plan a visit to at least one cemetery, if not more!
Tags: #neworleans #neworleanscemetery #cemetery #travel


Did you enjoy this article?