Estimated Reading Time:
3
Minutes
This post was originally published on December 14, 2022
The latest update to this post was made 7 months ago.
Where Is The Lemon Meringue Pie?
Shelves at some grocery stores are void of Edward's Lemon Meringue Pie, leaving many to ask Where is the Lemon Meringue Pie?.  With the holidays upon us, many people are in a panic to find this sweet and tart dessert and avoid the stress of making it themselves.
Interesting Facts
Lemon Meringue Pie is a little over 200 years old. In the early 1800's, Elizabeth Goodfellow ran a cooking school for young women as well as a very popular bakery.   Food historian, William Woys Weaver called Goodfellow one of the most creative forces in American cookery.
 
Lemons were a delicacy and many rich kept her shop in business.  Lemon Meringue Pie came about as she decided what to do with the left-over egg whites.  The rich especially liked this pie and served it often at dinner parties.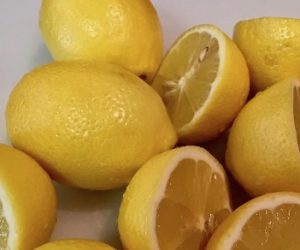 Elizabeth Goodfellow did not write a recipe book, but many of her students did and they had the Lemon Meringue Pie in their books.  Eliza Leslie was the author of a popular cook book and she had the recipe in her book.  Elizabeth Goodfellow's recipe can be found here. 
Through the years there have been many variations of the Lemon Meringue Pie.  Popular dessert companies such as Edward's, Marie Callenders and Sara Lee all have a Lemon Meringue Pie.  Recently Edwards dessert company replaced the Lemon Meringue Pie with a Lemon Crème Pie.  Each brand tastes slightly different, so taste testing may need to be scheduled to ensure you get the best one for your event.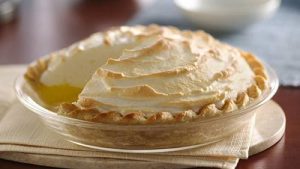 Try A Local Bakery
If you've been looking and are having trouble finding someone that sells Lemon Meringue Pie, you might search for a local small business bakery.  Some include the Lemon Meringue Pie on their menu and others may take requests.  Supporting your local small businesses are a great community return too!
Keep in mind, the shelf life of store bakery pies is only about a week compared to the frozen pies that can be bought several weeks ahead and thawed the night before you serve them.  Freezing and thawing a bakery pie will often alter the flavor.
Make One Yourself!
If you are looking to make your own, you might check out the Eagle Brand website, they have a recipe that is easy to follow and is free.  You can also check YouTube for demos on how to make them yourself.
Enjoy your holiday gatherings, dessert nights, company parties or movie nights in with a nice slice of Lemon Meringue Pie.   

Loading ...

Loading ...
See other [Food] related articles on Blog Encounters.
Tags: #lemonmeringuepie #pie #dessert #holiday

Did you enjoy this article?