Estimated Reading Time:
3
Minutes
This post was originally published on May 4, 2020
The latest update to this post was made 4 years ago.
Review: Netflix Kim's Convenience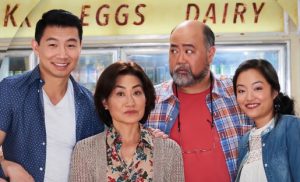 Stuck at home and running out of programs to watch, then it is time to give Kim's Convenience a try from Netflix.  This lighthearted comedy is just funny and serious enough to hold your attention. This binge worthy series will consume your lock up time with plenty of laughter. 
This series follows the life of a Korean Canadian convenience store owner, his wife and two grown children; one of whom still lives at home. Viewers get to see family dynamics, dating issues, work issues, balance of family life and different cultures all in one episode. Their home is above their store.
 The cast is talented and believable in their roles. Mr. Kim, played by Paul Sun-Hyung Lee is funny as he runs a store with humor without even trying. He is trying to get his son Jung, played by Simu Liu, to forgive him from a fight that caused his son to move out of the family home.  Mrs. Kim, played by Jean Yoon and their adult daughter Janet, played by Andrea Bang are always trying to get Mr. Kim and Jung together to talk out their issues. 
Janet is an art student and works at the store while Jung works as an auto rental.  The show dives into the work and school dynamics as well as their social life and issues.  Many of the issues are not pounded into the viewer for a lesson, but presented in a more humorous way that gets the point across without being preachy. 
Jung has a crush on his boss Shannon, played by Nicole Power.  They dance around their attraction and viewers can identify with Shannon's awkwardness around Jung and vice versa.  Shannon realizes they will never be an item and moves on to date someone while Jung realizes he is jealous.  Later in the series, they eventually date. 
The series is not overly sexual and there is mild language but it is still rated TV-14 due to some of the content.  There are mostly mild jokes about sex, some drinking, bar and party scenes so all in all it is considered a family show.  The one thing I pick up on in the series is the pronunciation of some words.  Viewers can hear the Canadian accent in everyone.  The series is well acted and sceneries are very good, it looks like money was spent on production. 
Many of the actors and actresses have notable films in their career history.  Jean Yoon played in the Expanse and Orphan Black.  While Simu Liu has parts in Orphan Black, Taken and Neon Nights: Rise of the Triad Underworld.  Paul Sun-Hyung Lee won an award for Best Comedic Actor. It is safe to say that the cast and crew are highly talented.  If you are looking for a new series to watch, I suggest giving Kim's Convenience a try.  We all need a little laughter right about now.
Tags: #kimsconvenience #netflix #reviews #tv #series

Did you enjoy this article?