Estimated Reading Time:
6
Minutes
This post was originally published on May 23, 2023
The latest update to this post was made 5 days ago.
The Orville
The Orville is an American science fiction comedy-drama television series created by Seth MacFarlane for Fox. It follows the adventures of the U.S.S. Orville, a mid-level exploratory vessel in Earth's interstellar fleet, commanded by Captain Ed Mercer (MacFarlane). The show stars Adrianne Palicki, Scott Grimes, Penny Johnson Jerald, Halston Sage, Peter Macon and J Lee in addition to MacFarlane as the voices of various alien lifeforms encountered on the ship's missions.
The Show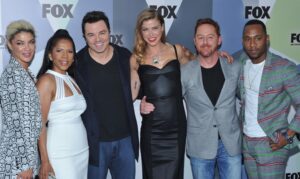 The Orville has received praise for its witty dialogue and unique blend of drama and comedy elements within a space opera framework. The series was renewed for a third season post its positive reception from critics and viewers alike. Its first two seasons were filmed at 20th Century Fox Studios in Los Angeles while Season three filming began in October 2020 with production taking place in Vancouver due to pandemic safety protocols.
Characters And Episodes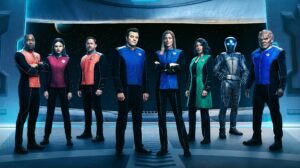 In terms of plotlines and character development, some episodes focus on aspects of science fiction such as time travel or parallel universes while others explore more emotional themes like relationships or morality issues that can lead to conflict between characters onboard the ship. The show also features several well-known guest stars including Charlize Theron and Liam Neeson who have each made memorable appearances during their respective arcs in Seasons one and two respectively.
Popularity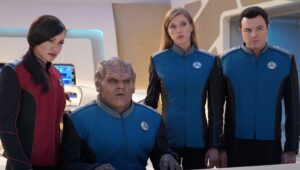 Created by Seth MacFarlane, known for creating the long-running animated sitcom Family Guy, it is no mystery as to why The Orville is so popular. The show follows the adventures of the spaceship Orville and its crew as they explore space, encountering strange new species and cultures while dealing with interpersonal issues. The show has become extremely popular in recent years, leading some to wonder why it's resonating with audiences.
Reason
One reason for the show's popularity could be due to its combination of science fiction elements with more traditional sitcom elements. While many sci-fi shows tend to focus heavily on dramatic storylines or grandiose action sequences, The Orville finds success in blending those two genres together in an organic and humorous way. By doing so, it avoids becoming overly serious or predictable like many other shows in its genre.
In addition, another factor could be that MacFarlane has drawn inspiration from classic sci-fi series such as Star Trek and Babylon 5, making sure to include familiar tropes and story beats that longtime fans will appreciate without feeling too derivative or unoriginal. Unlike other "space opera" type shows which can often feel bloated and unfocused due to their sprawling casts of characters and seemingly never-ending plots, The Orville focuses more on character development than epic battles between warring factions.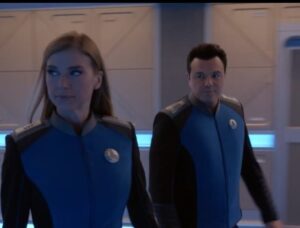 Actors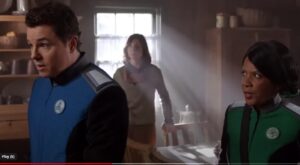 Seth MacFarlane stars as Ed Mercer, the captain of the Orville and a former Planetary Union officer. He is joined by Adrianne Palicki as Kelly Grayson, his ex-wife who is now assigned to be his First Officer. Penny Johnson Jerald stars as Dr. Claire Finn, the Chief Medical Officer on board the Orville. Peter Macon plays Bortus, a heavy duty Moclan alien serving in security aboard the ship. Scott Grimes rounds out this star cast as Gordon Malloy, Ed's old friend who serves as helmsman of The Orville and whose antics often get him into trouble.
Halston Sage also appears in recurring roles as Alara Kitan, a young Xelayan Security Officer on her first space mission aboard The Orville; J Lee plays John LaMarr an engineer with a sharp sense of humor; Mark Jackson stars as Isaac, an artificial lifeform from another planet; and Chad L Coleman appears in occasional episodes playing Klyden, Bortus' husband. All these actors bring rich characters to life that make The Orville one of TV's most popular shows today.
Seasons

The Orville:
Season 1 DVD

The Orville:
Season 2 DVD
Season 1:  The first season was comprised of 12 episodes and aired from September 2017 to November 2018. It featured several thrilling storylines that followed the crew's journey into deep space as they encountered strange species and other cosmic phenomena.
Season 2:  Meanwhile, Season 2 consisted of 14 episodes and aired from December 2019 to April 2020; this season focused more heavily on exploring new worlds while visiting old ones as well as developing relationships between characters aboard the ship like Ed Mercer (MacFarlane) & Kelly Grayson (Adrianne Palicki).
Season 3: Finally, Season 3 only consists of 10 episodes so far which makes it slightly shorter than previous seasons; this came about because production was delayed due to COVID-19 restrictions but thankfully resumed soon after with new episodes airing weekly starting from December 2020 onwards. As such, viewers can expect plenty of entertaining stories that deal with themes such as exploration & family dynamics in this upcoming third season!
Season 3, although not available yet on DVD, it can be streamed on a variety of streaming services. 
Will There Be Another Season?
With a successful first season and an even more popular second season, fans are eagerly awaiting news about future seasons of this beloved show.  So far, Fox has not announced any new seasons for The Orville. Although some reports have indicated that there may be more episodes on the horizon, nothing has been officially confirmed yet. That being said, there are many factors that could influence whether or not we'll get another installment of this fan favorite show. For one thing, ratings have been steadily declining over time; however, it still remains one of Fox's highest rated scripted shows overall. Additionally, as with many other television programs these days, production costs can put a strain on budgets and limit options for continuing series runs.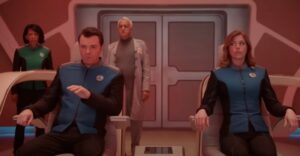 It's difficult to say whether or not The Orville will be returning for another season at this point in time — but if fans keep showing their support and viewership numbers remain high, then it could very well happen! Until then though all we can do is hope for news about a potential third season sometime soon!
Tags: #fox #theorville #tv #tvseries #blogencounters


Did you enjoy this article?