Estimated Reading Time:
3
Minutes
This post was originally published on November 3, 2016
The latest update to this post was made 5 years ago.
DIY Aquarium Dosing Container

You are on page 1/2.
Need an easy, nice-looking dosing container for your aquarium?
Pre-made or custom containers can be expensive. Here is a good solution at at least half the price.
Here is what you will need:
Glass or plastic container that has a lid that can be drilled. (I will be using the OXO Glass 2.5 Qt. Fliplock container.)
1/4″ Clear acrylic tubing (length will depend on the height of your container selection)
1/4″ Push connect bulkhead tank adapter.
Drill with a ¾" drill bit or a stepdown bit preferred.

First you will drill a ¾" hole in the top of your lid.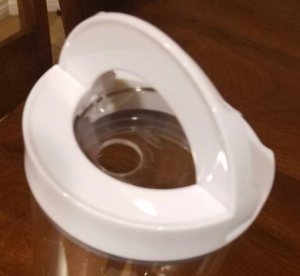 Next insert the bulkhead from the top and screw the nut on tight.

You are on page 1/2.