Don't Feed Your Pets These Food Items!

You are on page 1/4.
Pets are part of our family, but some human foods can cause severe issues for your pets.  With the holiday season rapidly approaching us – please take a few minutes to familiarize yourself with these common holiday foods (some year-round) that are not recommended for your dogs and cats!  Thanksgiving and Christmas holidays always cause a spike in vet visits to due to sick animals.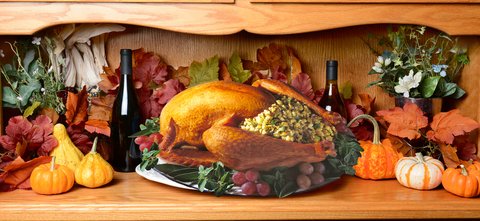 Turkey is OK in small, well cooked amounts. Don't give your pet under-cooked turkey! Hold the turkey skin, it's very fatty and hard for them to digest. Hold the turkey bones too! Turkey bones pose a choking hazard and they splinter, which can cause damage to the tongue, stomach and intestines.
Chocolate is toxic to your furry friends, avoid it all together. This includes cakes, chocolate chip cookies, brownies, pies with chocolate as an ingredient. Chocolate, although delicious for humans can cause severe issues for pets… Those issues include: tremors, abnormal heart rate, seizure, vomiting, restlessness and diarrhea.
Stuffing as delicious as it is is not a good mix for your pet… Why? Well, it depends on the ingredients used to make it! Onions, mushrooms, leeks, chives, scallions and garlic are a no-go for your pet! Even over-the-counter boxed stuffing often include these ingredients. If you happen to make it without any of the listed ingredients, and it's pretty bland, your pet can enjoy it, in small amounts though. Side effects of ignoring this warning include: vomiting, diarrhea, seizures and in some rarer cases coma or anemia.
Pies, Candied Foods & Cranberry Sauce are not a good thing to feed your pets, mainly due to the high sugar content. This could include any type of pie imaginable and includes yams, sweet potatoes, and cranberry sauce. Although not a deal breaker, too much can cause hyperness (think little kids on a sugar high), excess body heat (heavy panting, salivating), upset stomach, vomiting and diarrhea.
Plants (including Lilies, Mistletoe, Poinsettias and Holly) are considered toxic to dogs and cats.  Lily is extremely toxic to cats and even in small doses can be deadly.  It can cause kidney failures.  Holly can cause drooling, upset stomach, vomiting, diarrhea and head shaking.  Mistletoe when consumed in larger amounts has been known to cause seizures, 'drunk' behavior, vomiting, heavy breathing and in some rarer cases, death.  Poinsettia poisoning is the less severe of those listed, but can cause vomiting, drooling, heavy panting, upset stomach, itchiness and diarrhea.

  You are on page 1/4.