Estimated Reading Time:
4
Minutes
This post was originally published on January 1, 2017
The latest update to this post was made 10 months ago.
Mini Taster Recipes For Any Occasion
Mini taster recipes are a great way to make any party more elegant. The small tasters of food create less waste! Food served in mini bowls, cups, plates or spoons are trending at all functions. The supplies can be bought at any party store. The containers come in clear or a variety of colors. Include mini beverages along with your food for an added variation.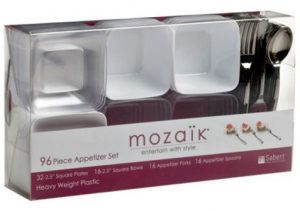 Supplies can be bought individually or in sets like the one pictured. Mix and match colors and styles for an added bohemian flair. Just about any large recipe can be made into a mini recipe! Some example recipes are on the following pages…
Seven Layer Dip
Seven Layer Dip is easy and traditionally prepared in a large bowl. Try using the mini cups or a small plastic cup to serve individual servings to guests.
Ingredients:
1 can refried beans
1 container of sour cream (16 oz.)
1 package of taco seasoning mix
1 package of cheddar cheese (2 cups)
1 cup guacamole
1 cup chopped tomatoes
½ cup sliced green onions
½ cup sliced black olives
1 bag tortilla chips
Mix sour cream and taco seasoning. Mix tomatoes, green onion and black olives and reserve for the top of your dip. In your mini container layer 1-2 tbsp. of each ingredient starting with the beans on the bottom. Top with a few tortilla chips.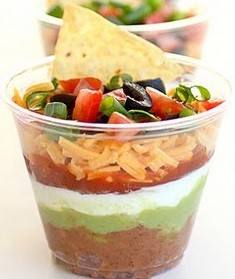 Mini Vegetables
Mini dips are easy to carry around mingling. Dipping vegetables are easy and delicious, plus just about everyone likes vegetable tasters. Make sure you have plenty on hand! In individual containers there are no more messes on the table or flimsy plates breaking with the weight of the veggies and dip. All in one container, the veggies can be enjoyed with limited mess. Dipping these yummy veggies is easy and fun!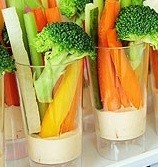 Slice any desired vegetable length wise to fit in the containers.
At bottom of the container place 1-2 tbsp. of desired dip such as Ranch Dressing, guacamole, salsa, French Onion, Dill Dip or cheese.
Bacon Wrapped Smokies
Smokies wrapped in bacon are a crowd pleaser and can easily be served in any size container. To prepare your smokies you will need bacon, smokies, butter and brown sugar.
Preheat the oven to 375 degrees.
Cut your bacon into thirds and wrap each smokie.
Place all the wrapped smokies in a single layer baking dish.
Melt 2 sticks of butter and 1 cup of brown sugar.
Pour melted mixture over the smokies.
Add drops of butter (1 stick)
Sprinkle 1 cup of brown sugar over the smokies.
Cook 35-40 minutes until bacon is crispy.
Let cool before placing in mini containers.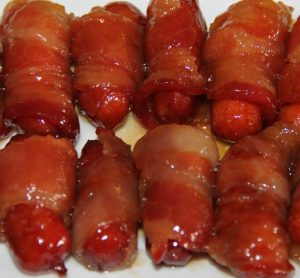 Enjoy recipes for these mini tasters during your next party! Remember to take any recipe and make it small. Look at your mini containers and use your imagination to create great conversation pieces. Serving mini tasters will produce less mess, less wasted food and build an entertaining party. Your guests will be talking about your creative menu ideas! This is a win for everyone! If you have your own versions of mini tasters that have been a hit for you, please share in the comments area below.
Tags: #party #recipe #minifood #minitasters #food

Did you enjoy this article?