Estimated Reading Time:
6
Minutes
This post was originally published on October 15, 2017
The latest update to this post was made 5 years ago.
How To Throw A Great Halloween Party!
Halloween parties can be the same from house to house.  Dress up, have candy, decorations and maybe some scary themed food; it is the same all over.  Throwing an epic Halloween party is easy if you do not get sucked into making it a mash of all things Halloween!
Themes
Pick a theme.  When you choose your theme stick with it and do not deviate or your party will look like a mesh of all the other parties.  There are thousands of themes to choose from such as horror movies, vampires, masquerade, Disney characters, superhero characters, TV shows, skeleton, pumpkin or scary tea parties.  Children parties and adult parties are different.  Let's look at throwing a proper adult Halloween party…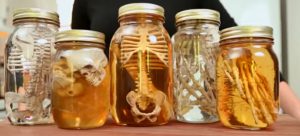 Once you choose your theme start looking for invitations.  Internet invites are the way to go.  Do not do both Internet invites and paper invites, it is too confusing.  Choose one and create your invites.  Make sure you pass out your invites in plenty of time for people to clear their calendars for your party.  Nobody likes a last minute invite; it shows lack of planning.

Decorate
Decorate for your party to give your guests plenty to look at, creating some must-see conversation pieces will have people talking about YOUR party for weeks to come!  Halloween stores, department stores and even the Internet can provide great places to shop.  Check for local Halloween shops such as Spirit Halloween, Oriental Trading Company, Amazon, department stores, Home Depot, Lowes and even grocery stores, as they all carry Halloween decorations.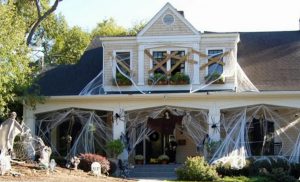 Large yard blow-up decorations make great entrance pieces.  They can set the initial tone for your party.  A graveyard scene in your front yard with some dry ice or fog machine creates a spooky atmosphere.  Hire some teenagers, local theater students or your own kids to play zombies in the graveyard as your guests arrive.  Everyone appreciates the extra effort and scare.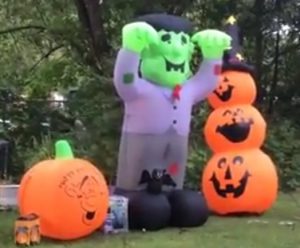 Inside decorations can match your outside efforts.  Motion activated or animatronics are great, but you can decorate without them.  Go beyond the streamers and balloons.  Use backdrops and scene setters to set the mood.  These can be hung on the wall or on doors.  Decorations such as skeletons or webs can be positioned on them or in front of them.  Ceiling decorations can also add to a spooky atmosphere.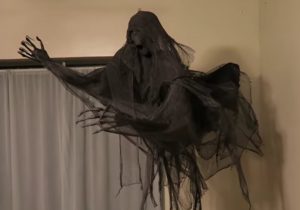 Table covers and tableware are easy to find in various themes.  If you have trouble and start to stressed, get black and orange table covers and tableware.  Black and orange go with any theme.  End of season is a great time to buy ahead for next year's party.  Buying generic color like black and orange will save you in the long run.
Food
Your menu of food or snacks can also accompany your theme.  Delish website offers many spooky and some gross snacks.  Your guest will be surprised and amazed with brain molded Jell-O or pumpkin looking deviled eggs.  Urine test Jell-O shots will have your guests begging for more.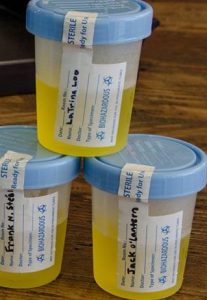 Cheese fingers, finger hotdogs, cat litter candy, shrunken head punch, jalapeno popper mummies, icky intestines bread, bloody eyeball brownies, poison toffee apples, and red velvet hot chocolate with almond witch finger cookies all make for an impressive snack buffet. 
Chocolate fountains are also fun at parties.  Use red candy melts and you have a blood fountain to dip your which finger cookies or fruit in and enjoy.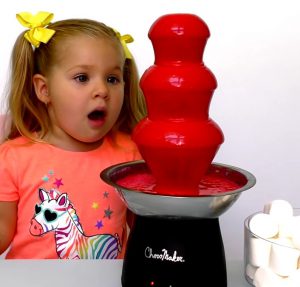 Decorate your food table with plastic body parts, rats, bugs or spiders.  Make sure you make labels for your food so guests know what they are actually getting!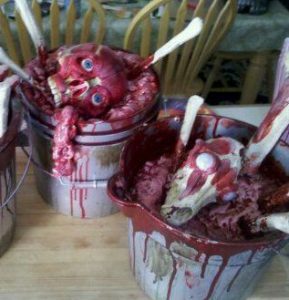 Place potion bottles on your table.  This gives more of a spooky feel for your party.  Use distress stain on glass bottles with printed labels and create your own potion bottles.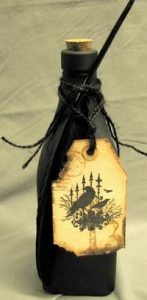 Candy
No matter what your theme is, spooky or not, every Halloween party needs a candy buffet.  Use a variety of containers, bowls or jars and fill them with candy.  You can use body parts gummy candy, black and orange colored candy only, or a mix of chocolate, gummy and black and orange.  Make sure you have bags for guests to take some treats home.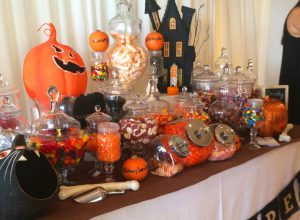 Halloween parties can be dull if you only have food.  Try some games, create a haunted house using one of your rooms or garage, or offer a few contests.  Games are fun for all ages.  Kids games can be played by adults.  They not only provide entertainment but also hey allow adults to remember their youth.  Wiggle worm race, Monster freeze or the traditional feel box can all be fun.
A costume contest, pumpkin carving contest or cookie decorating contest can create an atmosphere of excitement.  These contests may require prizes.  Have simple prizes such as gift cards; treat bags with candy or even ribbons.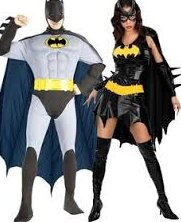 Haunted houses will take more planning.  It is best to have a guide who will watch people or help them through the scene.  Again, hire teenagers, theater students or your own kids to play parts in your haunted house.  Having someone host or guide will help prevent accidents.  If you do not have any actors in your haunted house and use animatronics, motion activated decorations or just decorations; it is still a good idea to have a watchful host or guide.  Use plenty of black tarp to make tunnels, walls or coverings on walls.  Backdrops that glow under blacklights create a spooky mood, as does music.  Your guests will think your haunted house rocks with careful planning.  Props can really make your haunted house stand out!

Alcohol
If you are going to have alcohol at your party, please take precautions to ensure your guests stay safe.  Remind all guests that you will cut them off if they exhibit unsafe behavior.  Always have one or two sober people watching guests.  Let guests know that they are welcome to spend the night and have taxi/Uber services available.  If you are not willing to do any of these things, please do not have alcohol at your party.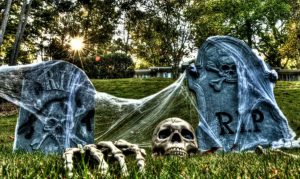 Planning and more planning is the key to a successful Halloween party.  Having supplies, decorations, and food at least a week before the party will keep you from running around to gather items last minute.  Decorate early so on the day of the party you are adding last minute touches or setting things out for the party.  All these together will ensure you have a great time along with your guests.
Tags: #halloweenparty, #hauntedhouse, #party, #halloweenfood #halloween

Did you enjoy this article?