Estimated Reading Time:
4
Minutes
This post was originally published on December 2, 2016
The latest update to this post was made 6 years ago.
Neverland Ranch In Ruins

You are on page 1/2.
The late Michael Jackson purchased a scenic 2,700- acre ranch in 1987.  He lived there until 2003.  Jackson left the property after authorities raided the house on child molestation charges.  Jackson was acquitted but never returned to the ranch feeling he had been violated.
Neverland Ranch was once home to a thriving petting zoo, amusement park, exotic animal display and movie theater.  A train ran through the property taking happy children on adventures.  Jackson named his new home after Peter Pan's Neverland Island; the island for lost boys who never grew up.
The 12,000-square foot mansion sits on the estate waiting for someone to call it home once again.  Neverland Ranch has been for sale since 2009.  Who wouldn't want a house with secret rooms?  Inside of the mansion is beautiful.  The walls, fireplaces and bathrooms are fit for royalty.  Gorgeous views from each room through large windows are in each room.
Early in 2008 photographers snuck in and took pictures of the entire property.  They were able to record their experience on camera before everything in the house was taken out.  They did see some strange things.  Paintings and images hung all around the house gave several of the photographers a creepy feeling.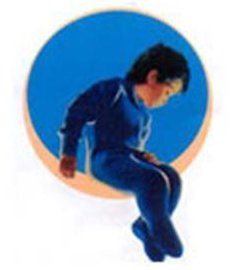 Photographers were really bothered by the signature logo that was all over the house: a picture of a little boy in footed pajamas sitting on a half-moon.  This image is similar to the DreamWorks boy fishing from a half-moon.  Some say that Steven Spielberg got the idea from seeing the original image while visiting Jackson's Neverland Ranch.

You are on page 1/2.

Did you enjoy this article?