Estimated Reading Time:
7
Minutes
This post was originally published on November 17, 2016
The latest update to this post was made 10 months ago.
CCF Tea And The Benefits Of Drinking It
Tea has been enjoyed across numerous cultures dating back to the 16th century.  There are many flavors, benefits and ways to serve.  In this article, we are focusing on a variant most commonly known as "CCF Tea" which is made from Cumin, Coriander and Fennel seeds.  This blend is typically used for weight loss and detoxification purposes.  It warms the body, increasing circulation, assisting with water weight reduction and in turn, assists with cleansing the urinary tract.
This tea is not over powering, but does have a unique taste, that, for some might take some getting used to.  The CCF blend is said to restore calm and purify the blood,  but that's not all!  It can assist with appetite control, bad breath, zap light headaches, reduce heartburn, help with digestion and calm nausea.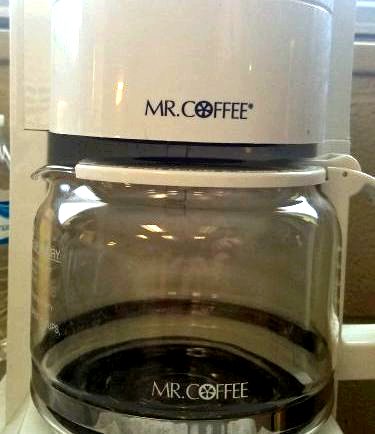 To prepare: I use an old Mr. Coffee coffee maker with the decanter.  Personally, I use 3 teaspoons of Coriander, 3 teaspoons of Fennel and 1.5 teaspoons of Cumin.  I back off the Cumin and only use 1.5 teaspoons as I'm still warming up to the taste and find that reducing the Cumin makes it more bearable for me.  If Cumin isn't an issue for you, you can use 3 teaspoons like the Coriander and Fennel.  You can start off with a single teaspoon of each to see how you do, in the beginning if you like.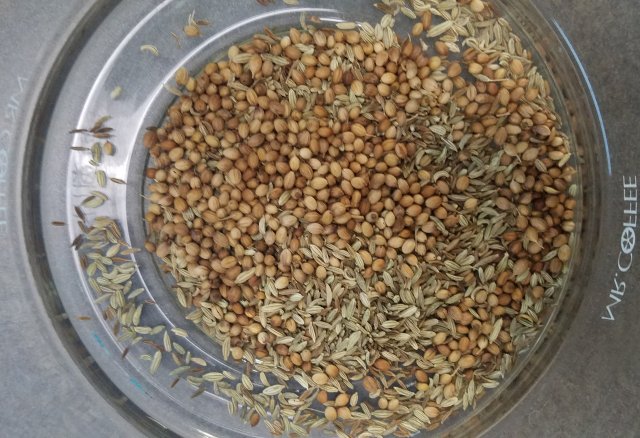 If using a coffee decanter: place the seeds in the empty coffee decanter, add hot water to desired cup amount (I always fill to 5 cups or ~1/2 the decanter) and let it sit on the hot pad for about 10 minutes.  You will not run the seeds through the coffee maker, have them directly in the decanter with the hot water.
If using a pot or other heating method, measure out the desired amount of cups of water, add the seed in desired teaspoon amounts and bring it to a boil.  After boiling, reduce to a simmer and cover for about 5-10 minutes.
The seeds will begin to release the flavors and oils into the water, turning it a 'tea' color.  I usually let the seeds steep for at least 10 minutes.  You will notice the mixture gets darker as time passes.  Strain the seeds and serve when at a temperature you enjoy.  You can also serve chilled or over ice, although most people I've talked to prefer it warmer or at room temperature.  To strain, I place a doubled over paper towel over the cup and let the tea drain though, but you can use coffee filters or strainers also.  I does not hurt to swallow the seeds either, so you technically don't even have to strain.  Myself, I prefer no seeds in my drinks!  You can click the images below for a larger view.
| | |
| --- | --- |
| Shown after adding hot water, but before steeping has occurred. | Shown after about 10 minutes on the coffee maker hot pad. |
There is no recommended amount of the tea to drink per day, but you do need to give it at least 14 days of use on a regular basis to see the health benefits.  I usually drink 3-5 ceramic coffee size cups size per day (at least one with each meal).  CCF Tea is generally safe for all, as it's all natural…  However, if you have any questions or concerns, contact your health care provider before you start.
Side note: You can add a splash of honey for additional flavoring.  Some have even reported a splash of almond milk or maple syrup can add a nice flavor burst.
So who are the key players in this tea, and what are their roles?  We will take a look at this part of it now…
Cumin – this spice/seed is bitter tasting by itself.  It has a very distinct taste and smell and is frequently used in Indian and Asian based cuisines.  It assists with digestion by activating our salivary glands.  It helps to cleanse and detoxify the body while helping to reduce pain, coughing, bloat, cramps, hemorrhoids, stress, anxiety and gas thanks to its essential oils, fiber, sodium and magnesium content.  This spice is rich in Iron and calcium.
Coriander – this seed comes from Cilantro plants and is the sweeter of the seeds used in the CCF collection.  It is used to relieve joint pain, assist with lowering of cholesterol in the blood, assist with blood sugar disorders, reduce diarrhea outbreaks, reduce rashes, relieve congestion, reduce skin irritations, reduce blood pressure and can be used to reduce body heat.  This seed is rich in Vitamin C, Vitamin A, Calcium and other essential minerals.  It has also been noted to carry stronger anti-histamine properties, that can reduce the amount of medicines some have to take for seasonal allergies.  Note: Coriander can cause some allergic reactions, mainly skin irritations, which is odd considering it is reported to reduce skin irritations!  Consult your doctor if you experience issues with Coriander.
Fennel – this seed can help prevent indigestion, reduce gas, reduce constipation and thanks to this seeds high source of potassium, it can assist with the lowering of blood pressure.  The increase in potassium is thought to assist with brain function.  It is helpful with the reduction of heartburn, bloating and diarrhea.  This seed is high in Vitamin C, which is good for overall immune system function and health.  Fennel can be useful for assisting women with pre-menstrual tension, water retention and in assisting with lactation in pregnant women.  This seed can be chewed directly to assist with heartburn reduction and freshen breath after spicy meals.  It should be used in moderation though, as too much Fennel can actually be bad for you!
Where to buy?  I went to my online go-to-store to purchase, Amazon, as I wasn't sure where the local health food/seeds store was, and ordering from Amazon has always been easy with quick shipping!  The sizes below have lasted me for just over a month.  I drink the tea Monday through Friday at work and on weekends just drink water.
Indus Coriander Seed, Organic, Fresh, 10oz [Link On Amazon]  (opens in new window)
Indus Cumin Seed, Organic, Fresh, 8oz [Link On Amazon]  (opens in new window)
Indus Fennel Seed, Organic, Fresh, 8oz  [Link On Amazon]  (opens in new window)
Final thoughts: the benefits of the ingredients above are a powerful combination at a price that is very affordable when you consider all of the benefits!  You should bear in mind that before you start anything like this in your daily diet, you should consult your care provider.  Also if you have any known reactions to Cumin, Coriander or Fennel, this may not be the supplement for you!
In closing: CCF Tea is a natural diuretic, which can increase the need to urinate.  You should not drink right before bed!  Also be sure and stay hydrated, plenty of water to compliment this tea so you don't dehydrate!  It is recommended that you drink just under 1/2 your body weight in ounces per day.  See the ball park reference chart below to assist.
A 100lb person should consume 40-60oz water per day.
A 150lb person should consume 65-85oz water per day.
A 200lb person should consume 90-110oz water per day.
A 250lb person should consume 115-135oz water per day.
A 300lb person should consume 140-160oz water per day.
I have been on this tea for about 4 weeks now and have noticed a decrease in appetite, I have dropped about 25 pounds through a change in diet and with use of the CCF Tea as a supplement.  I feel more motivated, have more energy and have had fewer digestive issues as time has gone on.  I consider this a win win and hope this article will help someone else out as well.  If you do try it out, or have comments, I'd love to hear how it worked for you – drop a comment in the area below.
Tags: #tea #ccftea #health #detox #herbal #natural #detoxtea #healthyfood #feelgood #fitness

Did you enjoy this article?