Estimated Reading Time:
2
Minutes
This post was originally published on February 6, 2017
The latest update to this post was made 10 months ago.
Santa Clarita Diet On Netflix
Santa Clarita Diet on Netflix is one of the most clever, witty and hysterical shows of 2017!  Real estate husband and wife agents in Santa Clarita, California sell houses, deal with neighbors and kill people.  Joel and Sheila have a teenage daughter, Abby.  Sheila died and came back as a "zombie".  The only thing that makes her a zombie is that she is undead and eats people.
Drew Barrymore once again fills the screen with hilarity. Timothy Olyphant plays Joel, her husband.  Now, I am used to seeing Adam Sandler play Barrymore's husband.  He would have been great in this role, although Olyphant does a good job.  Liv Hewson plays the couple's teenage daughter, Abby.  Her defiant teenage ways help her cope with a mom who is a zombie.
Some parts can be disturbing to viewers, but the script keeps the drama light.  Barrymore only wants to kill bad people; a crooked cop neighbor discovers their secret and starts to blackmail them to keep silent.  The couple tries to find a cure for what is happening to Barrymore.  Their journey in keeping her fed, covering up the killings and trying to lead a normal life is funny and entertaining.  One caution, the episodes are binge worthy so get ready!
Santa Clarita Diet twitter @SCDiet is worth the follow.  I look for this to be a cult hit.  A different type of zombie show is a refreshing breath of air.  I still think Adam Sandler would have been great as Barrymore's husband.  Their on-screen chemistry would have added to the comedy of the show.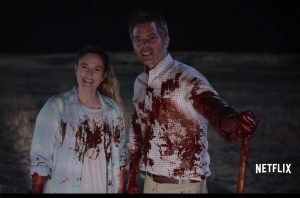 Give Santa Clarita Diet a try this weekend.  You might find yourself sitting through all of season 1!
Tags: #SCdiet #santaclaritadiet #drewbarrymore #SCdietnetflix #netflix #tv

Did you enjoy this article?