Estimated Reading Time:
4
Minutes
This post was originally published on November 26, 2016
The latest update to this post was made 5 years ago.

Spike From Buffy The Vampire Slayer

You are on page 1/2.
Spike is a vampire in Buffy the Vampire Slayer.  His relationship with Buffy and the other vampires is complicated.  His name was William The Bloody then as time goes on, he changes his name to Spike.
He arrives in Sunnyvale with his love, Drusilla, so she can be healed by being closer to the Hellmouth.  He gets caught up in killing the slayer.  Joss Whedon had initially thought Spike would be a minor character and end with Buffy dusting him.  The fans loved Spike, so Joss kept him.
There were many rumors that Sarah Michelle Geller, Buffy, and James Marsters, Spike, did not get along on set.  Well, they made it work on the screen.  Fans were drawn to their chemistry of good and evil.  There always was a bit of flirtation between the two characters even before anything romantic began.
Spike's First Love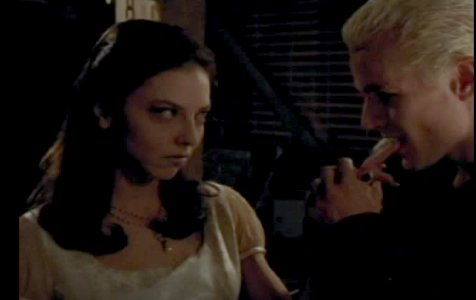 Drusilla was Spike's first love.  She turned him into a vampire.  Joss makes the relationship even more complicated by later having dialog between Angel and Spike where Angel refers to himself as the sire of Spike.  That is another article all its own.
Spike and Dru traveled all over reeking havoc where they went.  Spike always tried to make Drusilla happy, but she was crazy.  Really insane.  This was a result from all of Angel's torture when she was still human.  Spike took care of her in a special way.
When Dru cheated on Spike, he took her back.  She did this several times until she finally left Spike.  He came back to Sunnydale for good.

You are on page 1/2.