Estimated Reading Time:
6
Minutes
This post was originally published on December 30, 2017
The latest update to this post was made 5 years ago.

The Most Expensive TV Shows Of All Time
The numbers at the heart of your favorite TV shows are extraordinary.  Millions are spent to produce each show and this money can be spent in a variety of ways.  For example, in Game of Thrones, the main cast earns $300,000 per episode and look set to earn even more for seasons 7 and 8.  Much of the $10 million per episode budget will also be spent on the elaborate sets that help to make the show what it is.
One of the first times cast member pay really hit the headlines was when the cast of Friends negotiated $1 million per episode pay deals in 2002.  This amount of money was unheard of back then and the six friends were criticized for their demands, but if the show is earning a lot of money then surely, they deserve a sizable cut.
Of course, big budgets don't always guarantee success as Netflix has found on a few occasions.  Shows such as The Get Down, with a budget of $11 million per episode, failed to resonate with audiences.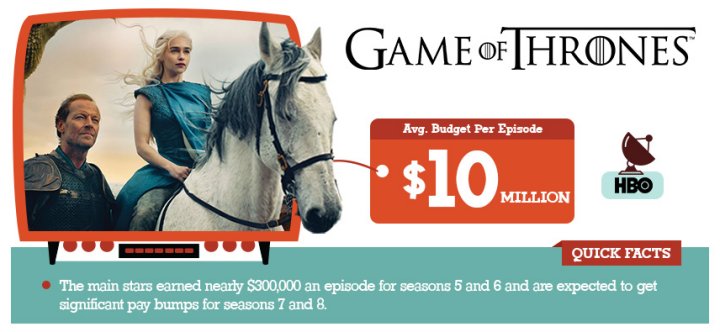 Game Of Thrones : Main stars earned nearly $300,000 an episode for seasons 5 and 6 and are expected to get significant pay bumps for seasons 7 and 8.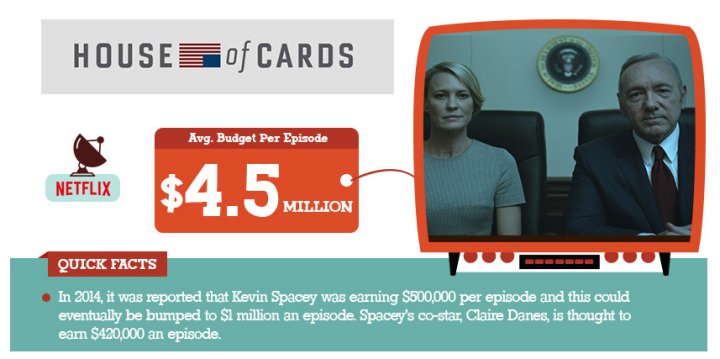 House Of Cards : In 2014 it was reported that Kevin Spacey was earning $500,00 per episode and this could eventually be bumped to 1 million an episode.  Spacey's co-star, Claire Danes, is thought to earn $420,000 an episode.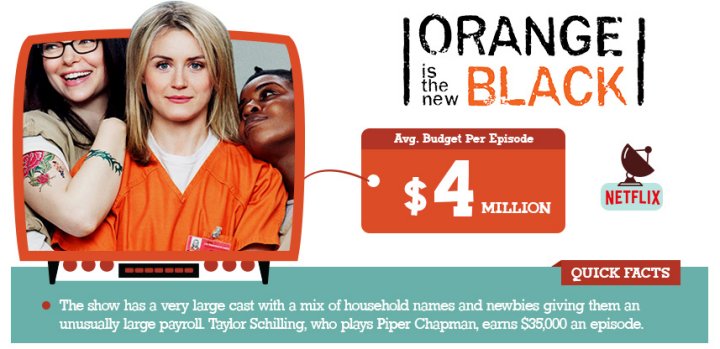 Orange Is The New Black : The show has a very large cast with a mix of household names and newbies giving them an unusually large payroll.  Taylor Schilling, who plays Piper Chapman, earns $35,000 and episode.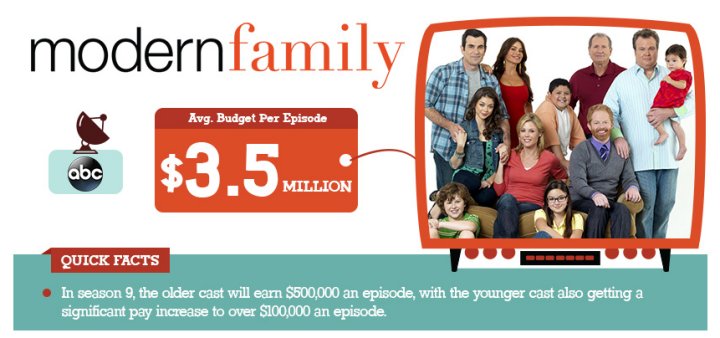 Modern Family : In season 9, the older cast will earn $500,000 an episode, with the younger cast also getting a significant pay increase to over $100,000 an episode.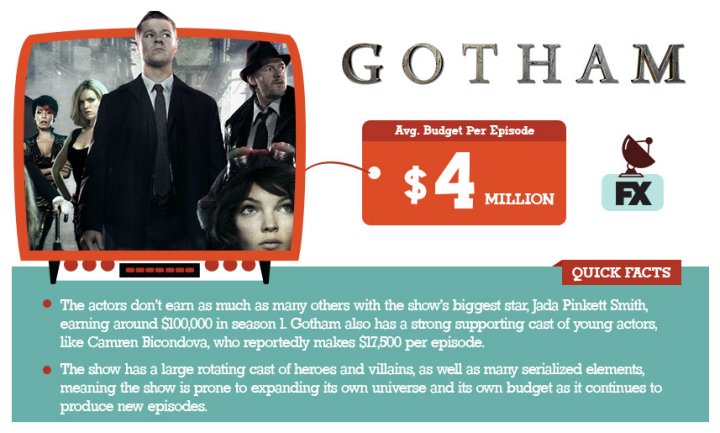 Gotham : The actors don't earn as much as many others with the show's biggest star, Jada Pinkett Smith, earning around $100,000 in season 1.  Gotham also has a strong supporting cast of young actors, like Camren Bicondova, who reportedly makes $17,500 per episode.  The show has a large rotating cast of heroes and villains, as well as many serialized elements, meaning the show is prone to expanding its own universe and its own budget as it continues to produce new episodes.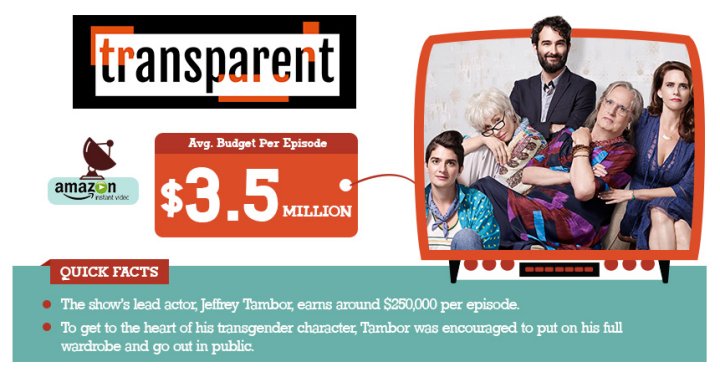 Transparent : The show's lead actor, Jeffrey Tambor, earns around $250,000 per episode.  The get to the heart of his transgender character, Tambor was encouraged to put on his full wardrobe and go out in public.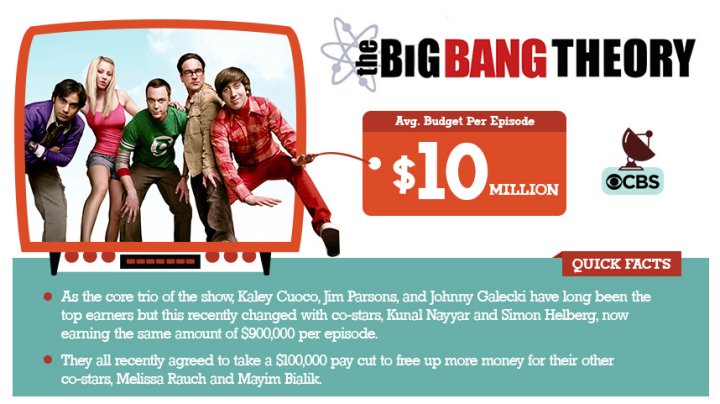 The Big Bang Theory : As the core trio of the show, Kaley Cuoco, Jim Parsons and Johnny Galecki have long been the top earners but this recently changed with co-starts, Kunal Nayyar and Simon Helberg, now earning the same amount of $900,000 per episode.  They all recently agreed to take a $100,000 pay cut to free up more money for their other co-starts, Melissa Rauch and Mayim Bialik.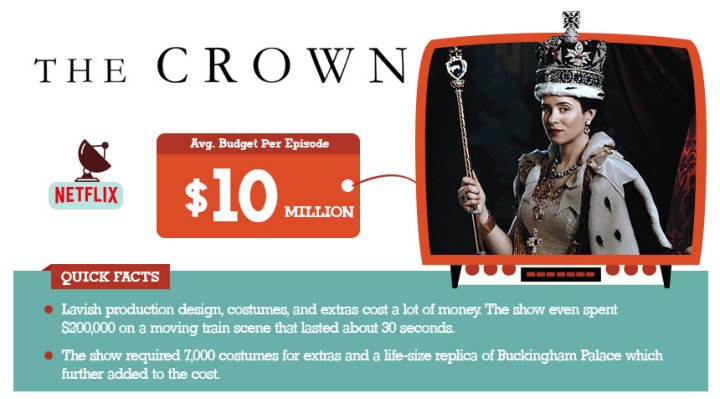 The Crown : Lavish production design, costumes and extras cost a lot of money.  The show even spent $200,000 on a moving train scene that lasted about 30 seconds.  The show required 7,000 costumes for extras and a life-size replica of Buckingham Palace which further added to the cost.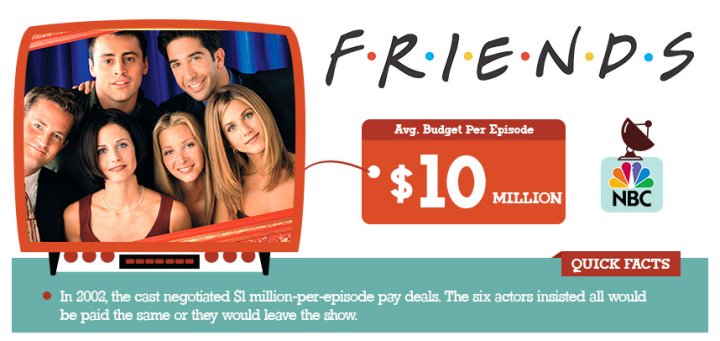 Friends : In 2002, the cast negotiated 1 million-per-episode pay deals.  The six actors insisted all would be paid the same or they would leave the show.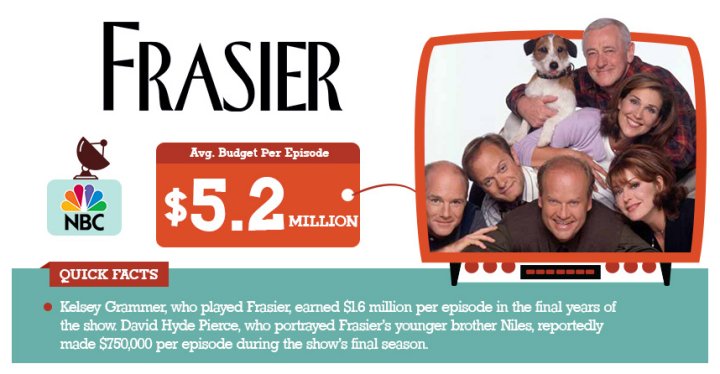 Frasier : Kelsey Grammer, who played Frasier, earned 1.6 million per episode in the final years of the show.  David Hyde Pierce, who portrayed Frasier's younger brother Niles, reportedly made $750,000 per episode during the show's final season.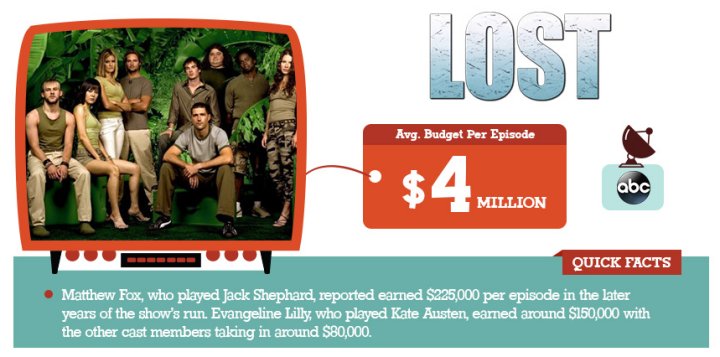 Lost : Matthew Fox, who played Jack Shephard, reportedly earned $225,000 per episode in the later years of the show's run.  Evangeline Lilly, who played Kate Austen, earned around $150,000 with the other cast members taking in around $80,000.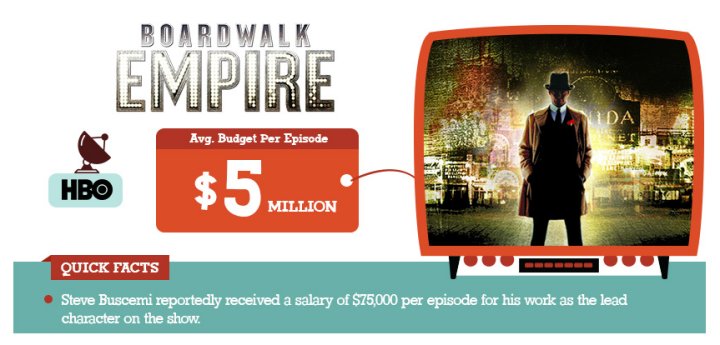 Boardwalk Empire : Steve Buscemi reportedly received a salary of $75,000 per episode for his work as the lead character on the show.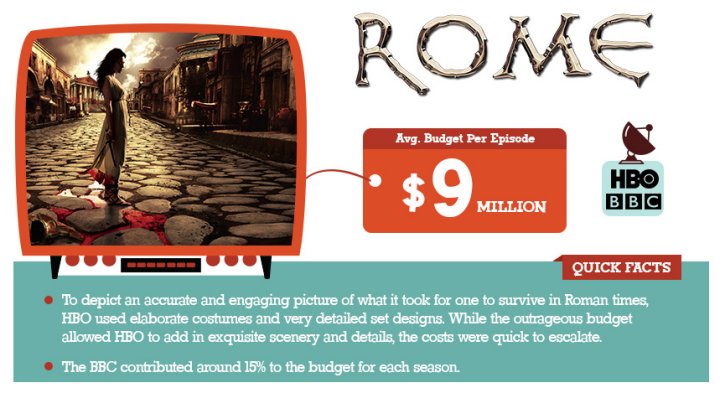 Rome : To depict an accurate and engaging picture of what it took for one to survive in Roman times, HBO used elaborate costumes and very detailed set designs.  While the outrageous budget allowed HBO to add in exquisite scenery and details, the costs were quick to escalate.  The BBC contributed around 15% to the budget for each season.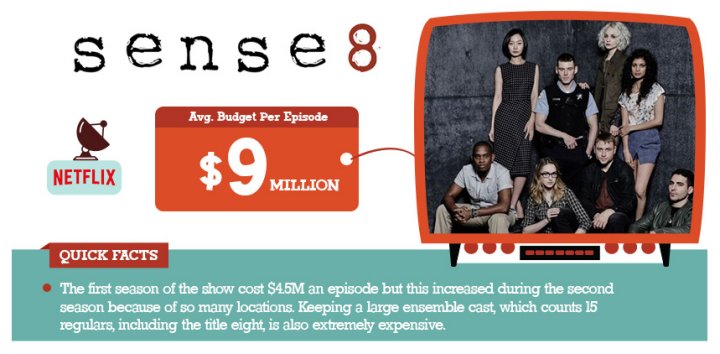 Sense8 : The first season of the show cost $4.5 million an episode but this increased during the second season because of so many locations.  Keeping a large ensemble cast, which counts 15 regulars, including the title eight, is also extremely expensive. 
Marco Polo : With a 90% Asian cast, Netflix hoped the series would appeal to international audiences as it expanded, especially because Netflix holds the international rights to the show.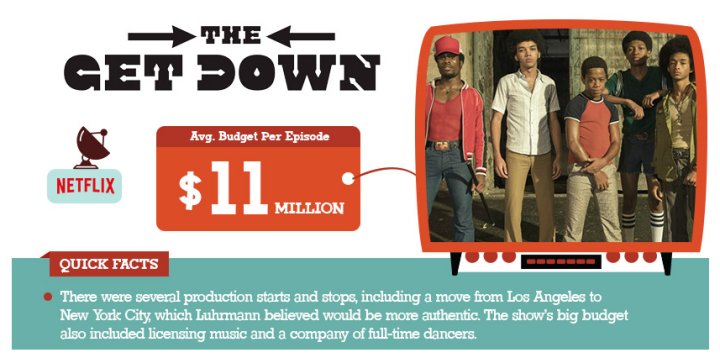 The Get Down : There were several production starts and stops, including a move from Los Angeles to New York City, which Luhrmann believed would be more authentic.  The show's big budget also included licensing music and a company of full-time dancers.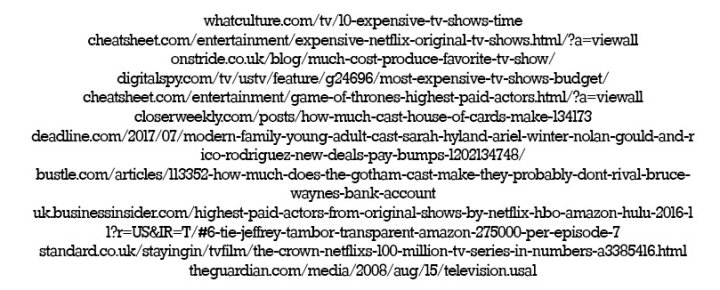 Note: This article has been modified from it's original format to fit this blog posting.
It has been republished and edited with written permission of the author "Frame Your TV".
All credit for this work, including artwork is from their research and design.
Frame Your TV website : http://frameyourtv.co.uk
Tags: #television #tv #series #tvseries #repost #actors #budget

Did you enjoy this article?