Solar Eclipse 2017

You are on page 3/3.
Other Ways to View
Viewing the eclipse can be fun without using eclipse glasses.  A pinhole viewer can be made to view the eclipse.
The sunlight will cast a bright dot on your paper and then watch the shadow move across the circle.  Boxes can be used to make these viewers. 
Using simple household items such as colander can be used to view the eclipse. The main rule is to never look directly at the Sun!

People Need To Be Educated
People are also scared of the Sun's radiation during an eclipse.  This just shows how stupid some people are.  The radiation does not change during an eclipse.  It is safe to go outside during an eclipse.  Steve Spangler addresses many of the silly questions and comments he has received regarding the eclipse.  Some are funny and some are just downright sad.  The video is sad because people actually were serious.  What have we become?
Schools are divided on the viewing of the eclipse.  Part of this is liability.  They do not want to be responsible for a child looking directly at the Sun and getting eye damage.  Parents will sue.  Many schools have mandated that no classes will view the eclipse.  There are live streaming channels of the eclipse, but it is not the same as viewing it first hand.
Schools that are not allowing students to view the eclipse might have students absent due to parents keeping them home to view the eclipse.  Parents need to educate their children on safety of viewing the eclipse regardless of children are viewing the eclipse at school or with the parents.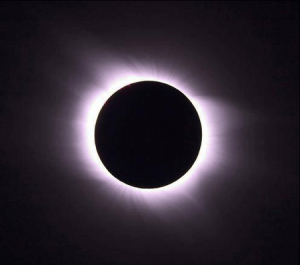 Stepping off the soapbox for now.  The eclipse is an experience.  Everyone should be able to view the eclipse and view it safely.  Remember the simple basic rule of not looking directly at the Sun and you will have a memorable experience.  Information on the eclipse and viewing the eclipse is all over the news and web.  Make sure you use a reliable source in making decisions.  The NASA Eclipse site is a good source of reliable information.
Timing
The full eclipse is expected to last between 2 minutes and 2 minutes 40 seconds.
Depoe Bay, OR 10:17am PST
Salem, OR 10:18am PST
Madras, OR 10:19am PST
Idaho Falls, ID  11:33am MST
Grand Teton, WY 11:36am MST
Casper, WY 11:43am MST
N. Plattle, NE 12:55pm CST
Lincoln, NE 1:02pm CST
Sabetha, KS 1:05pm CST
Columbia, MO 1:13pm CST
Jefferson City, MO 1:14pm CST
Carbondale, IL 1:21pm CST
Paducah, KY 1:22pm CST
Hopkinsville, KY 1:25pm CST
Nashville, TN 1:27pm CST
Clayton, GA 2:35pm EST
Clingman's Dome, NC 2:36pm EST
Talulah Falls, GA 2:37pm EST
Greenville, SC 2:39pm EST
Columbia, SC 2:41pm EST
Charleston, SC 2:47pm EST

You are on page 3/3.
Tags: #eclipse2017, #eclipse, #solareclipse, #education, #space, #totalsolareclipse