Solar Eclipse 2017

You are on page 2/3.
My Experience
I was able to witness a solar eclipse in 1970 and 1979.  In 1970, I was young but I can remember my father taking a piece of cardboard and poking a hole through it and holding it over a piece of paper taped to the sidewalk.  We all watched the white dot on the paper get slowly covered up by a shadow.  I remember being able to look up quickly when it was covered, but then we all looked back at the paper really fast.  We knew then not to look at the Sun, plus my father was there to let us know when to stop looking.  In 1961, Richard Fleischer filmed Barabbas.  A real eclipse took place during a crucial scene.  The actors had one take and one chance of getting their parts right.  The scene is powerful especially when you realize that a real eclipse is taking place.

Safety
Safety on watching the eclipse has been in the news and all over social media.  The main key safety fact is not to look at the Sun.  This baffles me that we have to remind people not to look at the Sun.  It is sad that some think an eclipse changes the Sun.  Please remember the Sun does not change and looking directly at the Sun can and will damage your eyes.
Tips
There are safety tips all over the web and on the news.  The NASA Eclipse site has viewing tips that are great.  Tip number one is to never look directly at the Sun without proper eye protection.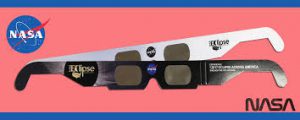 Eclipse glasses have special solar filters that make it safe to look at the Sun during an eclipse.  The eclipse glasses can be worn on top of normally worn eyeglasses.  These eclipse glasses should be rated ISO 12312-2.  Everyone should test eclipse glasses before use.  If there are scratches on the glasses, do not use them.  To test the glasses:
Stand in front of a car with headlights on at night.
Put the glasses on and look at the headlights.
If you see a bright light or can clearly see the headlights, then do not use the glasses.
If you see a slight soft glow or nothing at all, they are safe.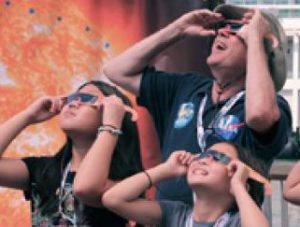 Children should be supervised at all times.  Even if you are using a pinhole method or eclipse glasses, children should be supervised to make sure they are using their method properly.  Activities for children can be found in the NASA Eclipse Kit.
Sunglasses are NOT the same as eclipse glasses.  Do not look through a camera, binoculars, telescope while using the eclipse glasses.  Cameras and telescopes should have special solar filters on them before you use them.  Do not try to use the eclipse glasses as a filter for these devices.

You are on page 2/3.